You are a Center.





What is meant by this word and idea of "center"?

For me, it is the subtle awakening of knowing
which energy center–chakra–is alive at the moment.
For example, where do I sense my reaction to something seen or heard? —
In my head? or heart? or belly?

Why is Center important?





Knowing your inner workings helps assess the outer world.

The outer world can pull and stretch a person away from their heart-felt value system.
It is really easy to not be strong in one's core.
Yet it is enormously delightful and joyous to know our unique inner workings.
I base all of this on my deep conviction to be
IN PEACE, IN LOVE, IN HARMONY.
When I am not in these states, it just isn't as fun!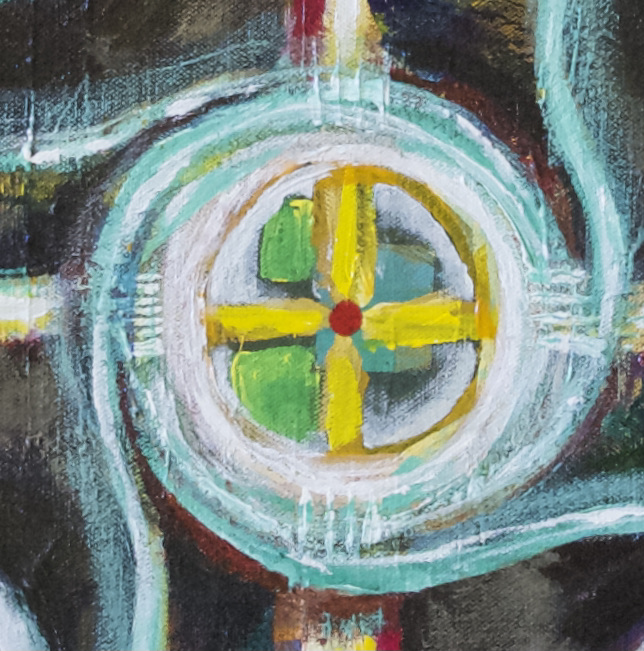 I have extracted the center aspects of paintings for this news delivery.
I enjoyed seeing their definitions apart from the supporting picture on the canvas.

This visual process also had me asking whether my various centers and times of awareness were well-defined, or fuzzy-hazy, or gentle, or
formidable and strong.
These energies can all be altered, cultivated, refined, developed to your liking.




Often times when I am in studio, this awareness flows in and I take hold of its movement.

I assume and almost know that YOU also have these
moments and times and invitations.

Some of these paintings began with the center strong and apparent in my psyche,
some began from the outer bounds of exploration and travelled inward.

I offer them to you as gateways.

It is also deeply rewarding to simply sit by a tree.
Without effort, Tree-People
lovingly/calmly/subtly
direct one's awareness to a Center.
Then you can sit in this earthly and bodily temple
and relish its enormous inner universe.




[I did not provide direct links to the above works.
Possibly you will enjoy visiting my site and finding
them in the Land or Hoops Portfolios. Have fun!]

Most of my work carries a gentle thread.
I look forward to sharing more with you!


<><><><><><><><><>

Wishing you a bright-eyed beauty-filled day!

<><><><><><><><><>
Seek & Enjoy Unfolding!
With Light,
Cherilyn American Contemporary Painter
Interpreting Land & Figure